Grave Mercy by Robin LaFevers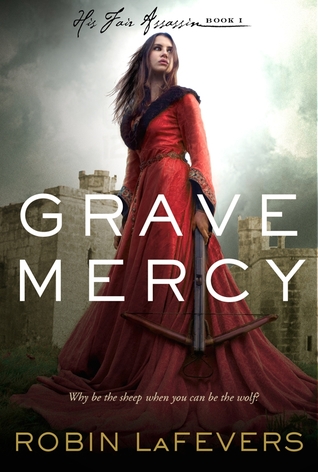 Publication date: April 3rd 2012
Publisher: Houghton Miffling Harourt
Number of pages 549
Series: His Fair Assassin (1#)
Genre: YA Historical /Fantasy
Source: Purchased. This is my honest opinion.
Goodreads synopsis:
Why be the sheep, when you can be the wolf?

Seventeen-year-old Ismae escapes from the brutality of an arranged marriage into the sanctuary of the convent of St. Mortain, where the sisters still serve the gods of old. Here she learns that the god of Death Himself has blessed her with dangerous gifts—and a violent destiny. If she chooses to stay at the convent, she will be trained as an assassin and serve as a handmaiden to Death. To claim her new life, she must destroy the lives of others.
Ismae's most important assignment takes her straight into the high court of Brittany—where she finds herself woefully under prepared—not only for the deadly games of intrigue and treason, but for the impossible choices she must make. For how can she deliver Death's vengeance upon a target who, against her will, has stolen her heart?
Review:
I usually associate the word 'grave' with grey. But in terms of Grave Mercy I associate it with light.
Before you splutter and tell me that is the corniest line you've ever heard, hear me out. You see, I was in this thing called a "reading slump" and I'm pretty sure that it itself is associated with the word grave. It sends shudders down readers' spines. I had given up on yet another book and decided to head for my bookshelf, where many unread books lie. Then, I kid you not, I kind of had this moment. One of the ones where the world stops spinning (not for long, don't worry) and you just get that feeling that you know if you were in a movie, a heavenly circle of light would have surrounded Grave Mercy in it's modest little place on the shelf. That was the moment I just knew that the time had come for me to read it.
Then the fangirling moment came along when I remembered what Grave Mercy was about. How on Earth had I ignored it for so long? I adore historical fiction, kick-butt characters and FRANCE! So I began reading immediately.
But it took me just over a week to finish Grave Mercy. Usually it takes me two/three days to read a book but I really just had to savour this one. Plus it's pretty long.
Let me tell you: Ismae doesn't just have an awesome name. That girl is epic. She's girl power in medieval France form. And epic Ismae wouldn't be complete without the epic assassin stuff. I thought that it was so cool how Robin LaFevers had incorporated it into the setting, seriously, read it and know what I'm talking about. There's this stuff with marques and poison…Plus it's clear she did a lot of amazing research which only made the book more interesting.
And I read along pretty much quite happily. But I eventually reached the point where I was like "I've had enough now". I just thought that the story dragged on a bit. Which brings me to my next issue: the ending. I mean, where was it? I thought that it was totally meh. Especially since it's the last book in the series told from Ismae's point of view, I just feel like there should have been more "Duval and Ismae together time". Especially after what happened between them a few pages before. Speaking of Duval, while I liked him, I didn't love him. I thought that while he was strong, brave and obviously cared deeply for Ismae, he lacked maybe even a little bit of personality?
While I'm looking forward to the next book, I'm just a little upset because I want it to be from Ismae's point of view again. But alas, all I can do is hope that she is still in it a lot (after that ending anyway *cough, cough*) and that Sybella's point of view is just as interesting. Come to think of it, I'm very curious for her story. She is probably my least favourite character out of her, Ismae and Annith (the three friends who the books are about) but thinking about it I am very, very curious about her story.
I would definitely recommend to historical fiction fans who love action and a little romance. Soooooooo good.
4/5 comets
Meteor shower. A great show.