Avoiding Alpha by Aileen Erin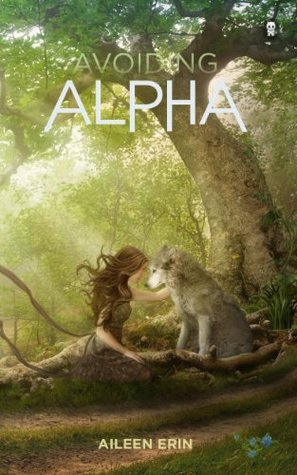 Publication date: May 13th 204
Publisher: Ink Monster, LLC
Number of pages: 145
Series: Alpha Girl (2#)
Genre: YA Paranormal
Source: Received in exchange for review. This is my honest opinion.
Goodreads synopsis:
Seventeen-year-old Tessa McCaide has come a long way since her abrupt entrance into the world of werewolves, but she still has just as far to go before she's comfortable with turning full wolf. In the meantime, she's avoiding the topic of shifting to four legs any way she can. Thankfully her mate, Dastien Laurent, is quite the distraction.
When she finds her best friend, Meredith, getting sick in the bathroom, Tessa knows something's majorly wrong. Meredith was cursed years ago, and the dark magic kept her wolf dormant—only now the wolf is awake, and that same spell is killing her.
Tessa has no intention of sitting around while Meredith wastes away. Even if it means playing with magic she doesn't understand, she'll do anything to save Meredith's life. Including bargaining with the local coven of witches and its crazed leader, whose only goal is getting Tessa to join the witchy ranks.
Can Tessa save her friend without losing herself?
Review:
After how amazingly fantastic the first book was, I was really hoping that Avoiding Alpha would live up to it.
But it didn't.
It seems like a lot of the things that I particularly liked about the first book, were left out. I loved the school, but that wasn't really in it, I loved the writing style, but it just seemed different in this one, there was less of those witty one liners and although I like the cover, really not as much as the one of Becoming Alpha.
But thankfully, Dastien stayed the same. Seriously, next time I read a werewolf book, I will wish Dastien was in it. A French werewolf. J'adore.
I wasn't really a fan of the story, but that may just be personal preference. I am really sick of witch books because almost every one I pick up is very similar. I just wish that Avoiding Alpha had just concentrated more on the werewolf side of things, not the freeing Meredith's wolf through witches side of things.
That's another thing I liked: Meredith. I won't tell you how I felt about her story because that's pretty much going to give away whether they free her wolf or not. I'm only going to say that I was "happy" with it because happy can be quite a generic word.
What annoyed me the most, was Tessa. I mean come on, sometimes it's ok when she gets aggressive because it's part of her character, she's the alpha after all. But she gets so aggressive all the time. Seriously. *internal groan*
2.5/5 comets
Just scraped past. Nearly there.
Add to Goodreads
Goodreads author bio:
Aileen Erin is half-Irish, half-Mexican and 100% nerd-from Star Wars (prequels don't count) to Star Trek (TNG FTW), she reads Quenya and some Sindarin, and has a severe fascination with the supernatural. Aileen has a BS in Radio-TV-Film from the University of Texas at Austin, and an MFA in Writing Popular Fiction from Seton Hill University. She lives with her husband in Los Angeles, and spends her days doing her favorite things: reading books, creating worlds, and kicking ass.