The Truth About Alice by Jennifer Mathieu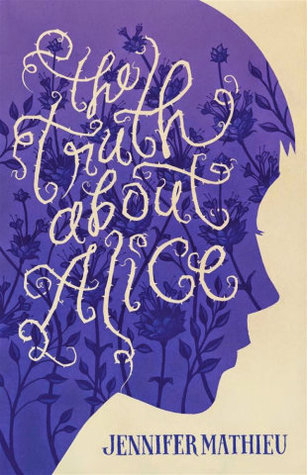 Publication date: June 1st 2014
Publisher: Hardie Gant Egmont Australia
Number of pages: 199
Series: N/A
Genre: YA Realistic/Conteporary
Source: Received in exchange fo review (thank you so much!). This is my honest opinion.
Goodreads synopsis:
There are a lot of rumours about Alice Franklin, and it's stopped mattering whether any of them are true.
It all started at a party, when Alice was supposedly with two guys in one night.
Soon everyone at Healy High has picked a side in this game of he said/she said. Do they believe Brandon Fitzsimmons, the most popular guy at school and the football hero of Healy? Or do they believe Alice, the girl who wears too-tight T-shirts and was caught kissing Brandon in a closet a couple years before?
When Brandon dies in a car crash, there are serious allegations that his death was Alice's fault. As the rumour mill spins into overdrive, Alice's small town becomes suffocating. And when the truth becomes a matter of opinion, something's got to give.
Review:
The truth about this book is that it will pick up your heart and crush it into a billion tiny pieces. The truth is that you will experience this process with almost every chapter.
The truth is that all the characters are flawed. So flawed that it literally made me talk to them in the book, and I never display any kind of emotion while reading. Their flaws are what make them powerful, some in good ways, some in bad ways.
The truth is that this book made me a bit of a wreck while reading it. I had no idea what rumours were true and rumours were not. I had no idea of what was going to happen to Alice, or if anyone would ever leave her alone. Never before have I really wanted to go ahead and peek at the ending. I had to know: what would become of Alice? What would she do?
But that leads to the truth as to why I am docking half a star off. The truth is that I felt a little disappointed at the ending. Like it was a little bit of an anticlimax. But I'm not saying that I wanted anyone to die or for something terrible to happen, I just expecting something a little bigger. To be fair, it wasn't necessarily a bad ending as such, in fact it was quite a nice ending, but it really didn't have as much of an impact on me as the rest of the book did.
The truth as to what made me read The Truth About Alice lies in the blurb. As soon as I read the blurb I just knew I had to read it. I knew I'd love it.
You will uncover some truth in society's ways within the pages of this book. The truth is that you may not like it. The students at Alice's high school were so susceptible to believing in all these rumours about Alice and were so heavily influenced by the more 'popular' students that it was kind of a little scary in that sense. Being in high school myself, I know that students can be really mean to eachother and writing a book about bullying would probably be quite tricky to write. I think that Jennifer Mathieu did a great job.
The truth is that I think that it's strange that I can overlook a main character like Alice in terms of her flaws. To be honest, I don't even know if she is the main character, but it certainly felt like it. She was so frustrating and vivid that I just wanted to scream at her some times. But at other times I just wanted to comfort her. There were quite a few different characters that told the story at different points and this kind of gave me this detatched feeling, yet at the same time I felt like I was intruding on their personal lives. You just don't know what's going to happen, or what's going to be revealed or what secret the character you are reading about will tell you next. I liked the way that there were a few very subtle clues about the characters' secrets here and there that really made you want to find out if your predictions are true.
The truth is that I have already mentioned how I'm not one to display emotion while reading and that I'm about to mention it again. I actually made "aw" noises out loud when reading when it came to Alice's relationship. I don't want to say with who in case it is a spoiler but seriously, it was just so cute and nice and it was one of the few moments in the book where I actually felt uplifted.
The truth is that I may force this book on you if you like realistic fiction. Realistic fiction/contemporary books like this are seriously some of my favourite. The Truth About Alice kind of reminded me of a book called "Tease" written by Amanda Maciel in the way that it dealt with bullying and showed you the story through the eyes of the bully not just the victim/s. But if you didn't like that (it's a little controversial like that) the truth is that you probably won't like this one for the same reason. But I personally really enjoyed this one and will be recommending it. I think that other high school students should read it because it proves to them that you shouldn't believe everything you hear.
There is truth in saying that I will definitely be reading any future books by Jennifer Mathieu.
There is also truth in saying that I give The Truth About Alice 4.5/5 comets.
Add to Goodreads
Goodreads author bio:
I'm an English teacher, writer, wife, and mom who writes books for and about young adults. My debut novel, THE TRUTH ABOUT ALICE, will be out in the spring of 2014.
My favorite things include chocolate, pepperoni pizza, and this super hilarious 1980s sitcom about four retired women called The Golden Girls. I can basically quote every episode.
I live with my husband, son, one rescue dog, one fat cat, and another cat that is even fatter than the fat cat.
When it comes to what I read, I love realistic young adult fiction (duh), creative nonfiction, super scandalous tell-all memoirs and unauthorized biographies, and basically anything that hooks me on the first page.