The Falconer by Elizabeth May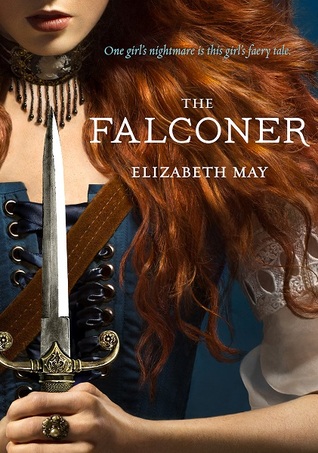 Publication date: May 6th 2014 (first published September 12th 2013)
Publisher: Chronicle Books
Number of pages: 378
Series: The Falconer (1#)
Genre: YA Paranormal Romance/Historical Fiction
Source: Received in exchange for review. This is my honest opinion.
Goodreads synopsis:
Heiress. Debutant. Murderer. A new generation of heroines has arrived.
Edinburgh, Scotland, 1844

Lady Aileana Kameron, the only daughter of the Marquess of Douglas, was destined for a life carefully planned around Edinburgh's social events – right up until a faery killed her mother.
Now it's the 1844 winter season and Aileana slaughters faeries in secret, in between the endless round of parties, tea and balls. Armed with modified percussion pistols and explosives, she sheds her aristocratic facade every night to go hunting. She's determined to track down the faery who murdered her mother, and to destroy any who prey on humans in the city's many dark alleyways.
But the balance between high society and her private war is a delicate one, and as the fae infiltrate the ballroom and Aileana's father returns home, she has decisions to make. How much is she willing to lose – and just how far will Aileana go for revenge?
Review:
Such, such, such a good book. I got way more than I bargained for.
This book was everything and more that it needed to be. There was action, a tough and brave heroine, faeries and, of course, Scotland. There aren't nearly enough books set in Scotland. But it gets better – The Falconer is set in the 1800′s. Perfect for the historical fiction lover in you.
Aileana was a fantastic main character. She was strong, smart, tough and as determined as anything. Pair her with a hilariously cheeky pixie and the mysterious Kiaran, and there you have it. The recipe fora fantastic faerie book.
To make the recipe even more perfect, you have to make it your own. And that's exactly what Elizabeth May did. Her writing was fantastic and the imagination and thought that went into The Falconer is evident, particularly through her descriptions and even in the little notes at the end.
This book is worth every one of those 336 pages. I really didn't want to stop reading. Especially at the ending. That ending + a release date of 2015 = recipe for constant checking for a specific date the book will be released. Which will most likely then lead to wringing of the hands.
An entrancingly well-crafted novel full to the brim with gripping action and intrigue. Very possibly the best faerie book I've read.
5/5 comets
Bye, bye Earth! Out of this world.
Add to Goodreads
Goodreads author bio:
Elizabeth May currently resides in Edinburgh, Scotland, with her husband. THE FALCONER is her début novel.