All The Bright Places by Jennifer Niven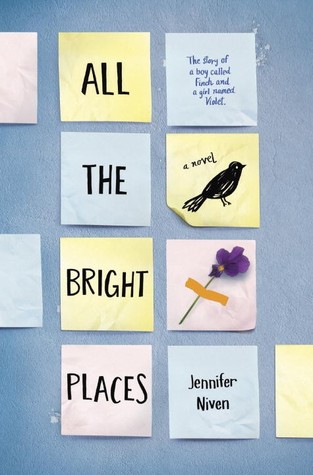 Publication date: January 6th 2015
Publisher: Knopf
Number of pages: 400
Series: N/A
Genre: YA Contemporary
Source: Purchased. This is my honest opinion.
Goodreads synopsis:
Theodore Finch is fascinated by death, and he constantly thinks of ways he might kill himself. But each time, something good, no matter how small, stops him.
Violet Markey lives for the future, counting the days until graduation, when she can escape her Indiana town and her aching grief in the wake of her sister's recent death.
When Finch and Violet meet on the ledge of the bell tower at school, it's unclear who saves whom. And when they pair up on a project to discover the 'natural wonders' of their state, both Finch and Violet make more important discoveries: It's only with Violet that Finch can be himself - a weird, funny, live-out-loud guy who's not such a freak after all. And it's only with Finch that Violet can forget to count away the days and start living them. But as Violet's world grows, Finch's begins to shrink.
Review:
UM.
UMM.
UMMM.
UMMMM.
It's been days now and I still have no idea what to write. I'm sorry, ok?
But this is the point where I give you some sort of garble as to what I think I think of it. Reader beware. This is your one and only warning.
The truth is that I am disappointed in this book. I expected quite a bit more than what I got because THE HYPE. It's ridiculous. So I did something I never do and bought the book the day it was released. And read it not long after I got it.
However, unfortunately I had some problems with it.
Perhaps the biggest one was that I felt the pacing of the book was way, way too slow. I can't deal with slow pacing in books. I get disconnected and bored. As I did with All the Bright Places. I think a lot of stuff to do with the homework project Violet and Finch did maybe could have been cut.
The other thing was that while I loved Finch right away, I didn't really connect with Violet from the start. Although, as her relationship with Finch blossomed, I found myself becoming more accustomed to her. I liked the way she kind of grew as a person and the way this was done gradually. Which of course the slow pacing allowed to happen. Ok, so it's good for something.
While I wasn't as emotionally invested as others, as I was a little detached from the story, there were a couple of those moments where you can just feel your stomach drop. Out of your feet. While I didn't cry at all during the book I still had this very sick feeling that something was going to happen. Which I won't share of course.
All in all, I felt like the issues dealt with in the book were handled with expertise. The characters were so realistic and the author has done a fantastic job with her book.
I really would recommend this book. I think all teens should read it - while in countries like Australia the cheerleader/jock/band geek kind of stereotyping isn't as prevalent as it is in America, stereotyping still exists and really can wreck a person's life.
Even days and days later the story has stuck with me and I expect it to stick with me for a long time yet.
And of course I'm looking forward to the movie.
4/5 comets
Meteor shower. A great show.
Add All The Bright Places to Goodreads
Goodreads author bio:
By the time I was ten, I had already written numerous songs, a poem for Parker Stevenson ("If there were a Miss America for men, You would surely win"), two autobiographies (All About Me and My Life in Indiana: I Will Never Be Happy Again), a Christmas story, several picture books (which I illustrated myself) featuring the Doodle Bugs from Outer Space, a play about Laura Ingalls Wilder's sister entitled Blindness Strikes Mary, a series of prison mysteries, a collection of short stories featuring me as the main character (an internationally famous rock star detective), and a partially finished novel about Vietnam. I was also an excellent speller from a very early age.
In 2000, I started writing full-time, and I haven't stopped... I've written eight books (two of those are forthcoming), and when I'm not working on the ninth, I'm contributing to my web magazine, Germ (www.germmagazine.com), thinking up new books, and dabbling in TV. I am always writing.
SEE MORE REVIEWS AND THE ORIGINAL AT: https://bookcomet.wordpress.com/